Biography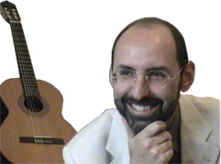 Born in Messina in 1961, Paolo Aragona achieved his Diploma di Strumento (for guitar) at the Conservatorio of Palermo in 1989 under the guidance of Maestro Salvo Pirello. He has attended many specialization courses held in Europe by Maestri of great renown, such A. Diaz, B. Benitez, A. Minella and J. Tomas, and A. Carlevaro; with Carlevaro Aragona has studied in depth that instrumental technique based on the principle of muscular relaxation and conscious employment of energy: "the least effort and the greatest output". Achieving good results, he has taken part in several competitions, always finishing in the top few places, and he is also regularly engaged in concert performances both as a soloist and in chamber music groups. He has played classical guitar in theatrical performances enacted in Italy and in other countries (Edinburgh Fringe Festival 1996). Invited by the Italian Cultural Institute of Edinburgh Paolo has played in a number of concerts as a soloist during the Edinburgh Fringe Festival 1997 and 2000, enjoying success with the critics and the audience.
For many years he has dedicated himself to the research of technical instrumentation which revolves around the principle of corporal awareness, exploiting abdominal respiration and meditation. The objective is to obtain a corporal perception so deep as to reach a psychophysical control suitable for the event, so complex and articulate from the instrumental performance. This approach towards technical instrumentation has led him to an elaboration of the method of studying a musical piece which establishes principles involving the emotive and mental awareness in search of a psychophysical equilibrium. This is a determining factor in the performance of public music. As a guitar teacher in a State Secondary School he has, in the didactic field, employed an elaboration of a teaching method applicable to the age group of the current secondary school. He has exploited the most recent acquisitions in the psychopedagogic field with particular regard to the development of motivations. It is in fact his deep conviction that "emotive intelligence" is the most powerful learning drive that man possesses and as such must be conscientiously and aptly exploired.
Paolo Aragona plays a guitar made by the luthir Antonino Scandurra.
Reviews:
"Paolo Aragona has performed with refined skill compositions of great musical interest, pieces communicating intense emotions."
Gazzetta del Sud
"Paolo Aragona ...... has proved to be highly professional, performing a programme which was very interesting from an artistic and from a cultural perspective..."
La Sicilia
"The consistency of the tone and liquid sound which Paolo Aragona conjured from his classical guitar was used to captivating effect in a programme A selection of Villa-Lobos preludes and studies were memorable for the variety of tempo and texture which Aragona employed, and the evocative Le Decameron Noir, by Brouwer showed the performer 's technical assurance in every department of guitar playing."
The Scotsman